Sabah, Keningau, Keningau
Premium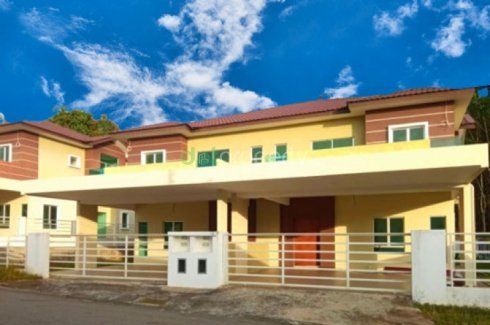 5 Bedroom House for sale in Keningau, Sabah
OPEN FOR SALE>>>> DIBUKA UNTUK JUALAN
TAMAN BUKIT INDAH
AT PASIR PUTIH, KENINGAU
(Near Keningau Golf Club)
8 units Left now‼️
30 Units of 2 Storey Semi Detached Houses ( 30 Unit Rumah Berkembar 2 Tingkat)
With 5 bedrooms + 3 bathrooms
Details
~Build up 2,020 sq ft
~Land Area 3,000.43 sq.ft
~Built-Up Area 24' X 41.2' (approximate 2,020 sq.ft)
~Spacious Rear yard
~Secure Community
~Beautiful Landscaping

STRATEGIC LOCATION
✔️Near to BATARAS Keningau -5 Min drives
✔️Near to Keningau Golf Club -1.5 Min drives
✔️Close to Hospital Keningau -5 Min drives
✔️Close to Sports Stadium Keningau-7 Min drives
Pekan Keningau- just 8 Min drives
*Buy your Dream House*
Deposit RM1,000.00 only
2022 BEST DEAL !!! BIG PROMOTION
Free:-
1.SPA Legal Fee
2.SPA Stamp Duty
3.Loan Agreement Legal Fee
Save More Money with your Home Purchase
SPECIAL REBAT/DISC.
????-RM 28,500 .00(for Non Bumi)
????-5% disc. For Bumi Lot
LOW DOWN PAYMENT
As Low As RM30,000.00
Buy for Investment:-
COMPETITIVE MONTHLY RENTAL
Rental rates at this area, based on the property types are:-
From RM 1,300.00 (Unfurnished)
From RM 1,800.00 (Furnished)
Low Salary, can combine loan
(Gaji rendah, boleh buat pinjaman secara gabung nama.
Loan ELIGIBILITY/ Kelayakan/Minima gaji/Income RM 4,900> Single loan with low monthly commitment
If Combine Loan : Salary Min. RM2,500 per Joint Loan with low monthly commitment
To check your loan eligibility, please Whatsapp Our Sales line at 0103852360 (24 hrs chat line)
This housing are SUCCESSFULLY COMPLETED*CCC OBTAINED
"Well Done"
READY MOVE-IN Anytime
Hurry up! Grab this opportunity to own a real Home Sweet Home in keningau!
Taman Bukit Indah is now *91%* Sold Out
Whtasapp Sales Line at 0103852360 NOW!!!
5

Beds

3

Baths
187.66 m2Usable area
269.41 m2 Land area

2

Floors
BBQ Area
Garden
Mountain View
Parking
Playground
Security