Kuala Lumpur, Kuala Lumpur
VISION
Binastra Land Sdn Bhd strives to become a boutique property developer recognised for innovation and enhancing the lifestyles of its customers with superior quality products and services that exceed their expectations.
MISSION
With a shared motto of "quality finishings from the start", we instill a culture of excellence by upholding quality as a priority in everything we do.
We adopt high standards of professionalism and integrity in our business conducts, spearheaded by knowledgeable and innovative professionals who always keep abreast with innovative technologies and cost-effective construction methods to maximize benefits for customers.
Simultaneously, we understand the importance of establishing and maintaining profitable and long-term partnerships. Which is why our main motto "quality finishings from the start" does not just stop with our developments but extends beyond our projects right to you.
Every project and development is aimed towards total customer satisfaction, as we are dedicated to build spaces that will enrich the lives of the community – be it a working environment, a comfortable home or a commercial venue; and that will provide a quality lifestyle for our valued customers.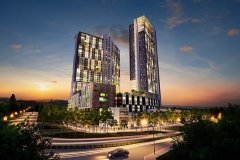 CyberSquare
9 units available for Sale